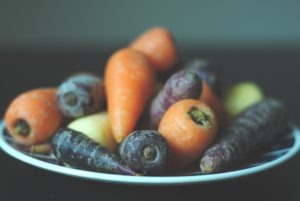 Fruits and vegetables are an important staple in any diet. While a diet containing a variety of fruits and vegetables is best, orange is one of the healthiest colors you can look for.
Orange vegetables contain beta-carotene, a form of Vitamin A, which is great for eyesight and eliminating free radicals. The beta-carotene gives the vegetable its orange color and is the precursor to Vitamin A creation.  A deficiency of vitamin A can result in symptoms like:
night blindness
a buildup of keratin on the conjunctiva, and
in severe cases even total vision loss!