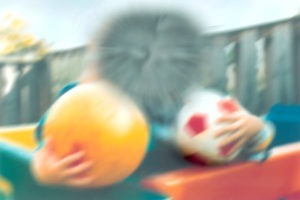 This picture gives us an idea of what a person sees when they suffer from macular degeneration. It is one of the most common causes of vision loss among people in the world today.  There has been more and more research being carried out to try and find ways to stop the loss of vision, and to try and prevent and treat the disease process.
Those who are suffering with this condition are often willing to try any kind of treatment that can be made available to them, and many people have so many questions about their options, including whether or not there are actual eye glasses for macular degeneration.
What is the Macula?
The macula is a very small section in the retina that has the highest concentration of light capturing cells, (which are called photo-receptors). This tiny area actually accounts for the most visual activity, as it is what is used when looking straight ahead. So, the macula is being used when reading a book, driving, watching a movie or anything that requires you to focus straight ahead.
Unfortunately, because of the large amount of activity and strain over the years, the macula is prone to damage with age. The disease of macular degeneration is a degenerative process, which will keep working to damage the macula beyond the normal aging process.
There are many factors which can contribute to a person developing the disease, including:
Family history
Age
Presence of Cardiovascular Diseases (such as heart attacks, strokes, high blood pressure, angina)
History of smoking
Fair skinned
Increased exposure to sunlight
Sex (women are more likely to develop the disease)
Obesity
Light colored eyes
No cataracts
Low levels of nutrients
There has been progress in the research into this disease, including different types of eye glasses that have been tested.  Many times, when the disease has been diagnosed and before it has progressed too far, people will be prescribed special glasses, which can be used to magnify print.  They make use of magnifiers and telescopes, and are specially made.
What Options Do Sufferers Have?
There has been research in Sweden, which has discovered a new method for measuring errors in vision. This offers the hope that special glasses can be made to help correct the symptoms of macular degeneration. Right now, it is impossible to create custom lenses for sufferers due to the methods which are being used to test vision.
Using this method we may be able to create glasses that improve the fuzzy peripheral vision of sufferers. This would be a major advancement as is often the only vision they have left. It would not be able to reverse the disorder or correct  the vision would not be corrected completely, but it does still offer hope for those who have been diagnosed with Macular Degeneration and are looking for options.
So what kind of glasses are companies working on to accommodate this condition? There are companies out there who:
Make custom eye glasses for macular degeneration already, by improving your peripheral vision.
Traditional glasses will usually be prescribed because the cornea or lens is not perfect. This imperfection  hinders how the light is passed back to the retina and then on to the brain.
Why can't people use normal glasses? Although the rest of the eye may be working properly, it won't focus with a damaged macula.
Prescription Glasses that May Be Helpful
Some of the kinds of glasses you may be able to have prescribed are custom-made low vision reading glasses, hand-held magnifiers and telescopic magnifying glasses, or even bioptic telescopic glasses, which may allow you to be able to drive again in certain states.
Did you know that Blue blocker sunglasses, which have been popular in the past as sports glasses, may also provide a bit of benefit for those with macular degeneration? They work to reduce glare indoors and out while helping to keep everything else bright and more visible. Blue blockers look like they are tinted, but they aren't. They don't reduce the amount of overall light that is coming in or make everything appear darker. In fact, they do not even affect the way that colors appear, and may even improve the contrast of colors.
Unfortunately, at this time we haven't a solution that would restore the vision of someone with macular degeneration. However, there are still options for those who are still in the early stages of the disease, and would like to try new methods to help them be able to hold on to their vision, and improve their quality of sight at this moment.
RESOURCES
MayoClinic: Dry Macular Degeneration

http://www.mayoclinic.com/health/macular-degeneration/DS00284/DSECTION=coping-and-support

PRWeb: Macular Degneration Glasses Help Low Vision Patients Improve Quality of Life

http://www.prweb.com/releases/2007/12/prweb576336.htm

PRWeb: New hope for Patients Living with Vision Loss

http://www.prweb.com/releases/2012/9/prweb9930208.htm

Digital Journal of Ophthalmology: Macular Degeneration

http://www.djo.harvard.edu/site.php?url=/patients/pi/405

University of Washington: Age-Related Macular Degeneration

http://www.uwmedicine.org/patient-care/our-services/medical-services/eye-ophthalmology/pages/articleview.aspx?subId=112

PRNewswire: Doctor Writes Guide for Macular Degeneration Eyeglasses

http://www.prnewswire.com/news-releases/doctor-writes-guide-for-macular-degeneration-eyeglasses-206895431.html