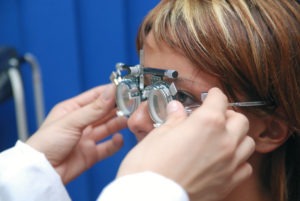 Eyesight is perhaps the most treasured and fragile of the human senses. Take care of your eyes and do all you can to protect this precious gift by preventing eye diseases and accidents.
Ways to Protect Your Eyesight
Get regular eye exams. Early detection and treatment is vital to managing eye diseases that have no noticeable symptoms in the early stages. Eye exams can also help identify other health issues like diabetes.
Understand how aging affects your eyes. Vision deteriorates with age and we become more prone to eye disease, but by taking care of your eyes, you can help slow down or reverse this process. Early treatment can prevent or reverse vision loss from age-related macular degeneration (AMD).
Quit smoking. Smoking increases your risk for AMD and eye cancers. If you're finding it difficult to quit on your own, talk with your doctor to develop a cessation plan that will work for you.
Eat a balanced diet. Antioxidants like vitamins C and E help protect your eyes from some of the effects of aging. Eat your carrots plus lots of leafy green vegetables and fruits.
Shield your eyes from the sun. Your eyes need protection from the sun just as your skin does. Excessive exposure can cause cancer and cataracts. Wear sunglasses and hats year round.
Follow your doctor's recommendations. Managing diabetes, high blood pressure, and cholesterol levels are important for your eyes as well as your overall well being. If you have any of these conditions, your doctor can instruct you on treatments and lifestyle changes.